LOVELOUD•November 3, 2023•Delta Center
Reviewed and Photographed by Mark Daluz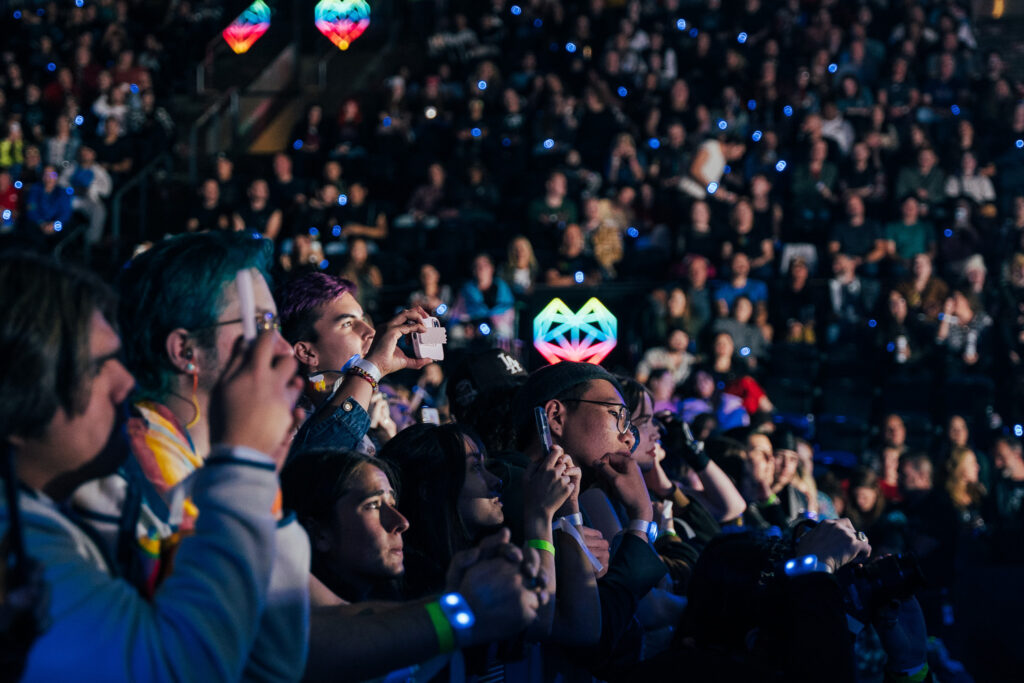 On Friday, November 3rd, Loveloud's founder and Imagine Dragons frontman Dan Reynolds held the 6th Loveloud tour in Salt Lake City at the Delta Center. Loveloud is a non-profit organization that puts on a yearly concert. It amplifies the voices of the LGBTQ+ community and brings them together through the power of music and sharing of stories. Loveloud's mission is to ignite the vital conversation about what it means to unconditionally love, understand, support, accept, and celebrate our LGBTQ+ friends and family.
When you go to a LOVELOUD show the goal is for you to be loved, and seen, and to foster connection. The lineup of this year's Loveloud was amazing. Featuring indie-rock band Mother Mother, indie-pop duo Tegan & Sara, and the headliner indie-pop singer LAUV. 
Red Carpet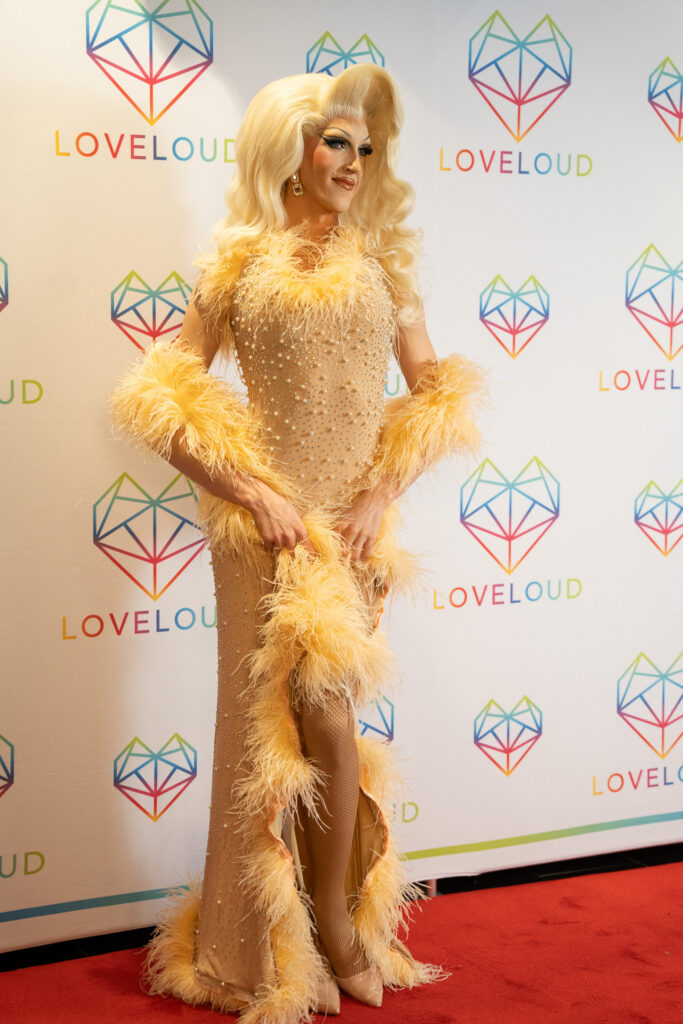 Loveloud's Red Carpet was the unofficial start of the event. The red carpet started 45 minutes later than it was supposed to as artists were busy doing other things or were still making their way to the Delta Center. Once it started, all the artists, board, and hosts were able to walk the carpet. Various media outlets were there to take pictures but only one group was there for interviews. @blackmenaces on TikTok. The Red Carpet went smoothly and we were later thanked by the board staff.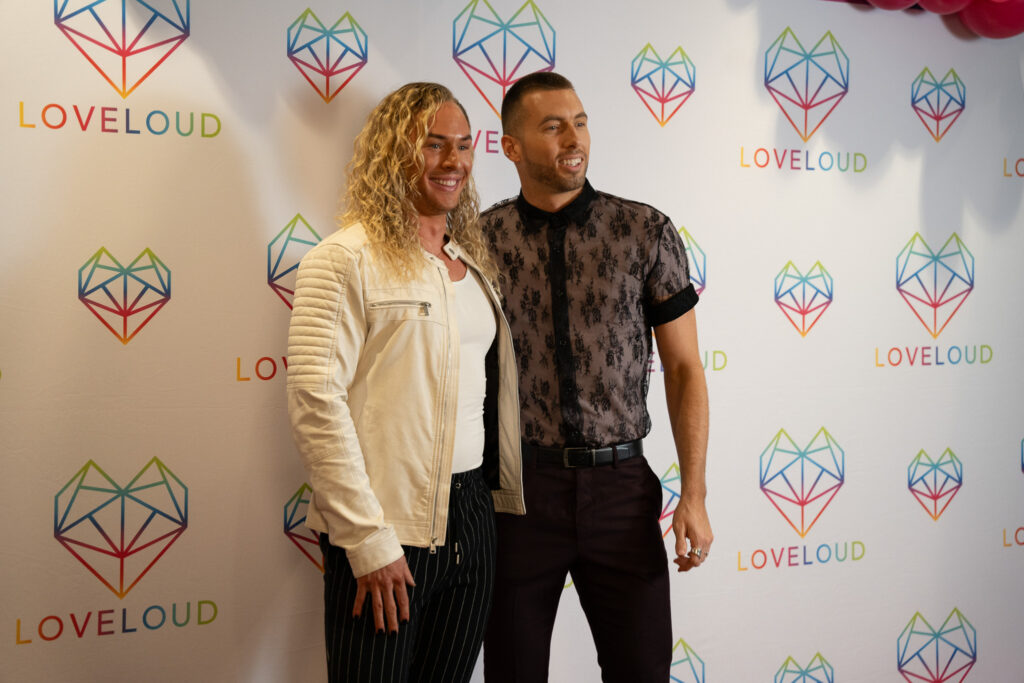 After getting to see the artists up close, I took the chance to walk around the venue to see what was going on. Besides the typical food stands, there were stands and booths set up around the Delta Center all focused on promoting love within the LGBTQ+ community and providing resources for those in need. You could tell that everyone around was glad to be there.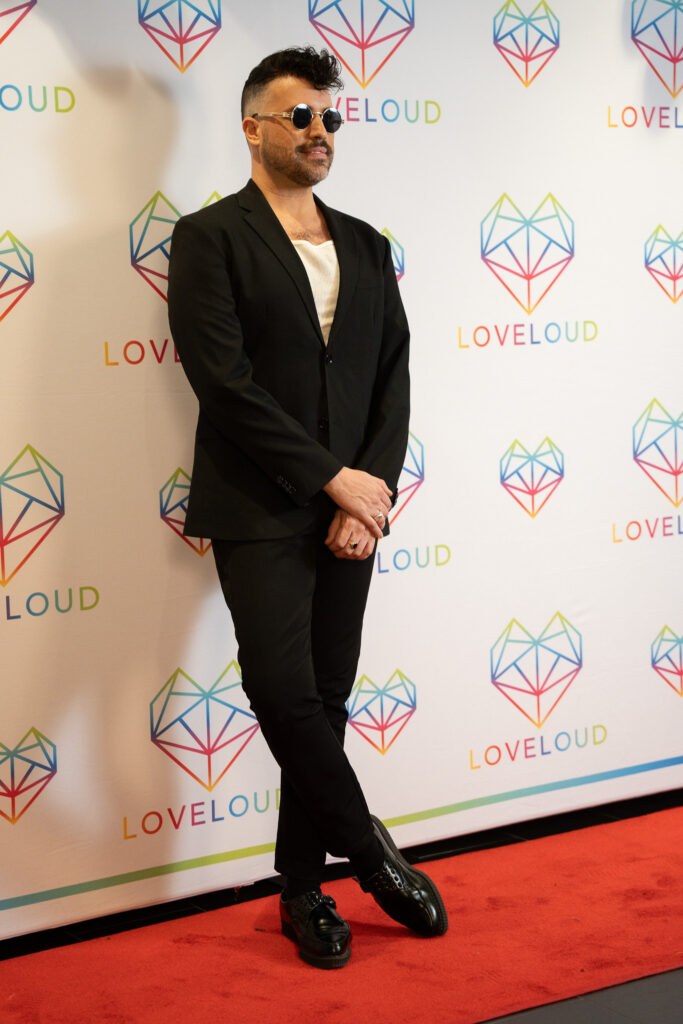 The first in Loveloud's lineup was David Archuleta. Before David took the stage, however, Kallen Allen, the host of Loveloud, welcomed everyone to Loveloud 2023 and introduced Ms. Meredith, a drag queen who performed to give everyone a taste for what was coming up. 
David Archuleta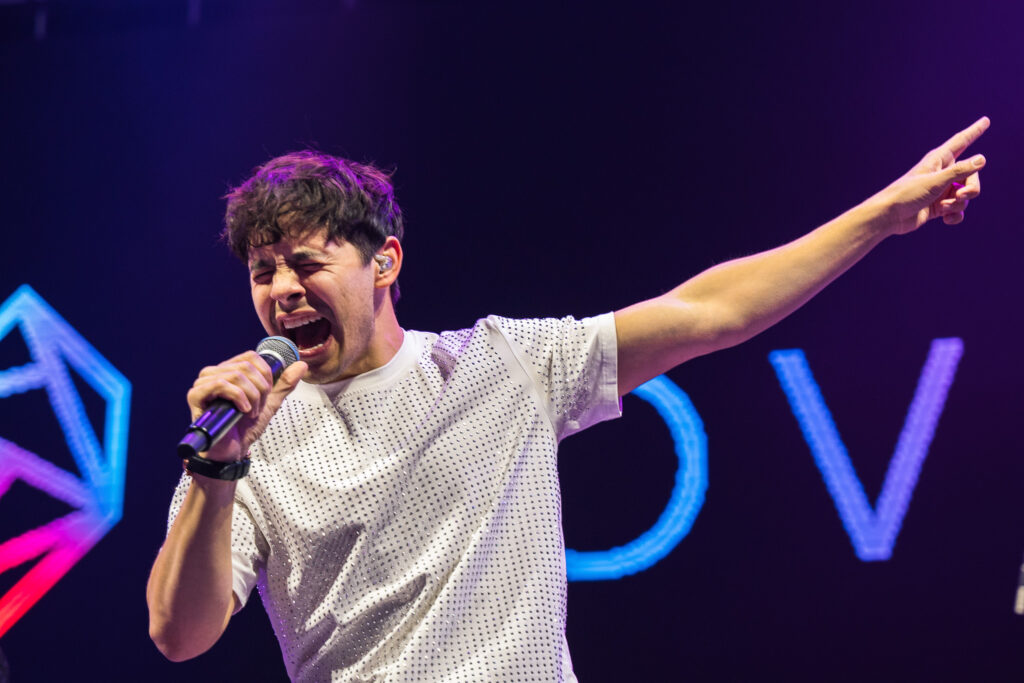 In anticipation for David, the audience couldn't contain their excitement. The arena was surrounded by wristband lights that people got as they were walking in. All the lights simultaneously pulsed on and off which looked so cool. Once David took the stage he managed to captivate the audience. Performing his hits like "Afraid to Love" and "Up", David was accompanied by backup dancers and had his own choreography. Besides the high energy and softer songs, he took the chance to talk about his family learning to become allies, being LDS it took his mom time to learn and David encouraged people to be patient with those doing the same.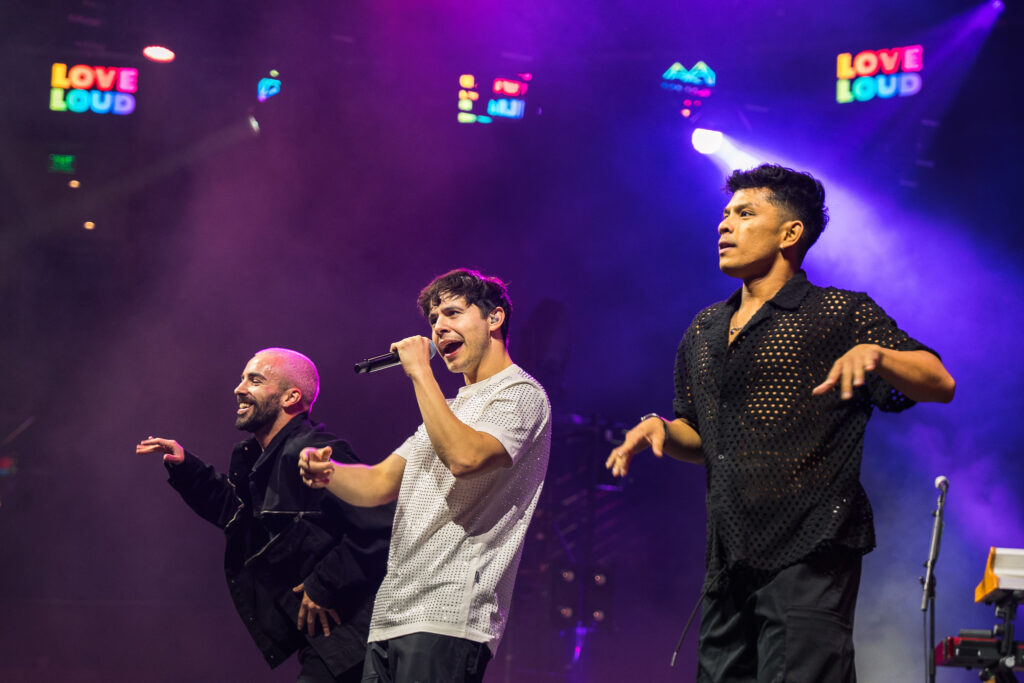 Tyler Glenn & Dan Reynolds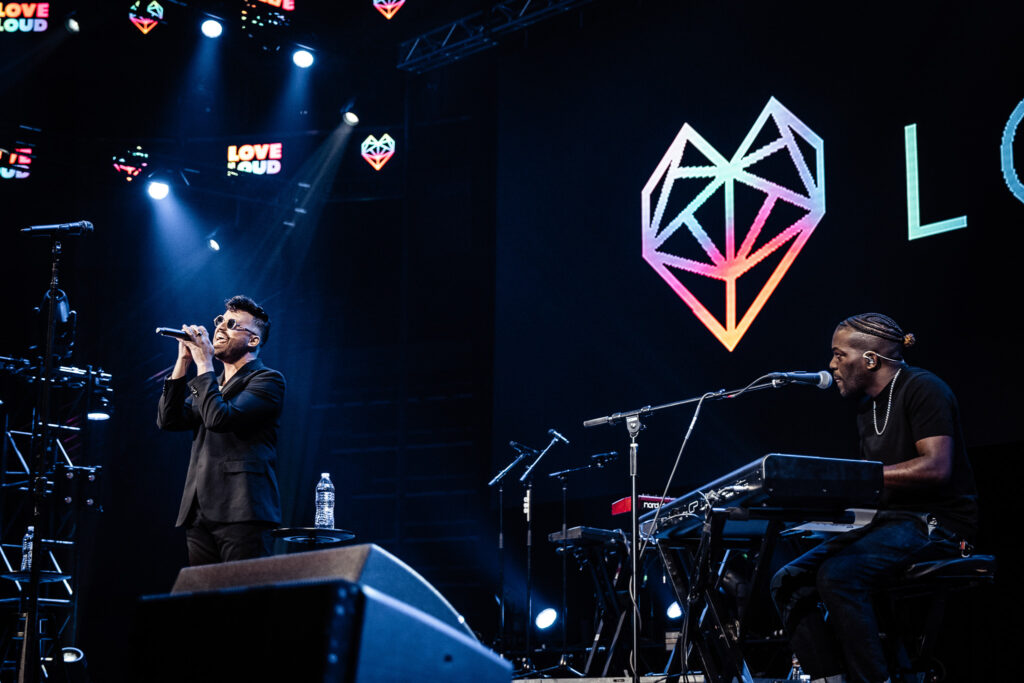 With little to no flare, Tyler strolled onto the stage. The frontman of the Utah band, Neon Trees didn't have to do anything extra to get people screaming. However, the screams didn't last long as when Tyler took the mic. He started by talking in a serious tone. Tyler's main message was about families having to choose between their faith or their children. He sang his song "Devil" where one key lyric "I found myself when I lost my faith".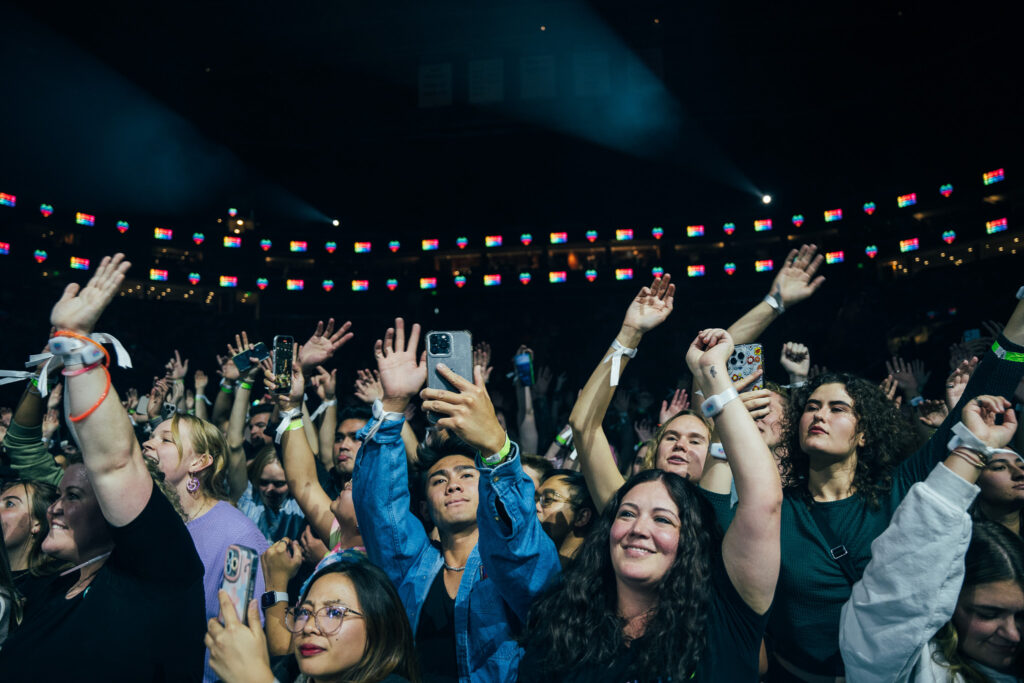 Dan Reynolds joined Tyler to sing a melody together that included audience participation. Tyler then left the stage as it was Dan's chance to sing two songs of his, accompanied by only a piano and charged with emotional vigor – "It's Time" & "Believer". Dan also made a powerful speech about how no matter who you are you are right and perfect. To love unconditionally and to Love Loud. Dan's kids were right there in the pit when he looked them in the eyes and said they are perfect just the way you are. 
"Love is our most basic instinct" – Dan Reynolds
Mother Mother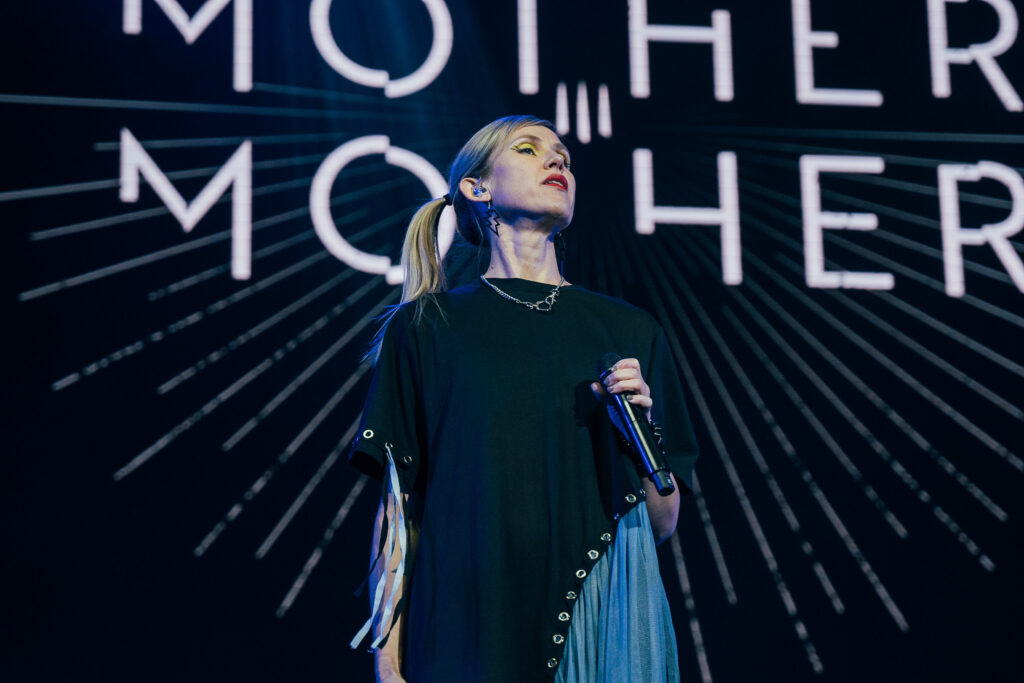 Mother Mother was the penultimate act to go. An artist that I was excited to see as their hit Burning Pile was one of my favorite songs. When the stage dimmed for their soon arrival, the screams for them were by far the loudest out of all the performers which surprised me. However, it was deserving as the show started off with one of their best hits "Verbatim". The band looked like they were really enjoying themselves which helped make the rest of the show phenomenal. They ended their set with their top hit "Hayloft" and the sequel "Hayloft II".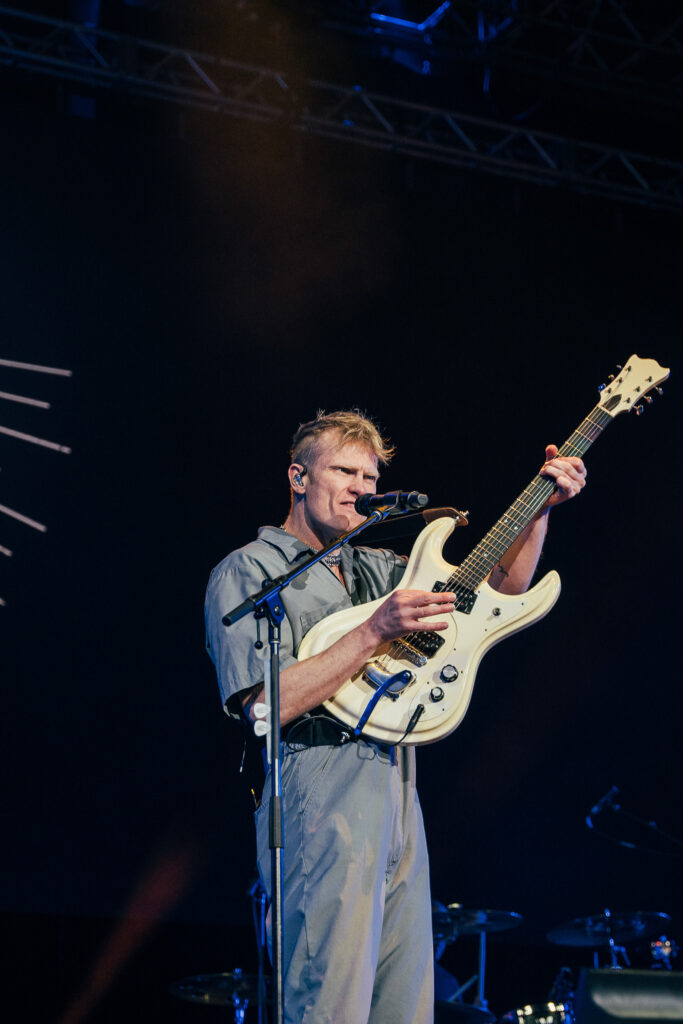 LAUV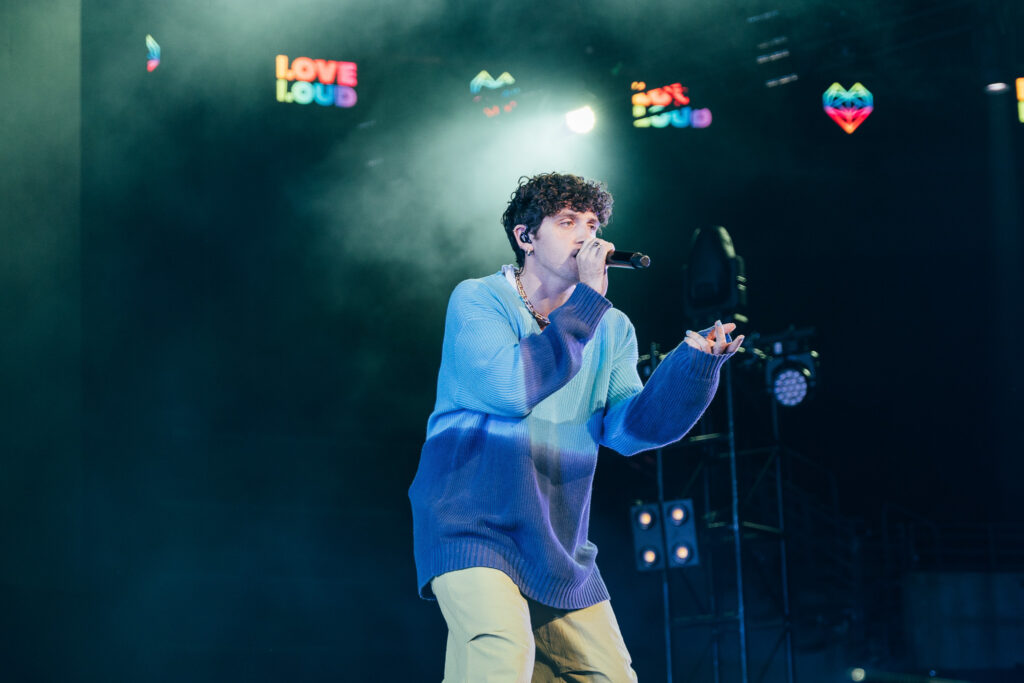 It was 10 o'clock and the Delta Center couldn't wait any longer for Lauv to take the stage. The gradually crescendoing classical music that was playing in the background made his appearance more dramatic as his silhouette lit up to perform "Love U Like That". Lauv performed beautifully on Friday and one thing that made it so special is that every second of his performance he always tried to make a connection with someone in the audience if even for a moment. He moved from one side of the stage to the other and got to the edge of the barrier to really dig in. Lauv sang many of his top hits like "Paris in the Rain", "I'm so tired…" and he ended the night with "I Like Me Better".