Jake Scott•Sammy Rash•October 14, 2023•Sandy Amphitheater
Reviewed and Photographed by Josilyn Wakkuri Lybbert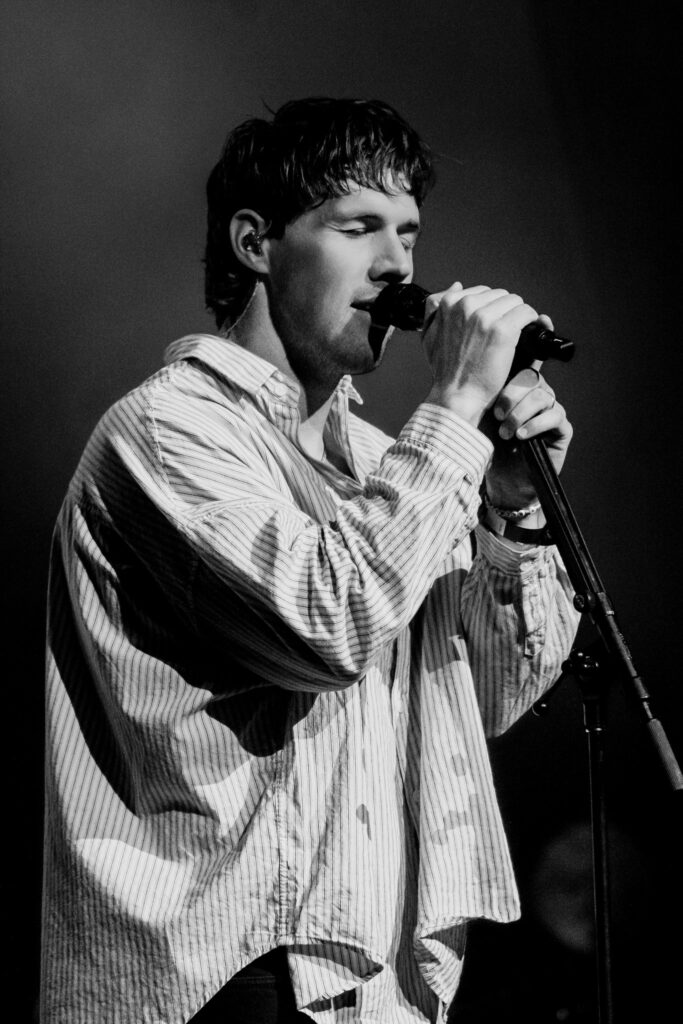 Out of all of the places Jake Scott could've picked to hold an album release show, he chose Utah! Jake loves Utah, and Utah loves Jake, so it was the perfect place for his new album, "Lavender," to be played live for the first time! Fans packed out Sandy Amphitheater on Saturday, October 14th for the show. The first time that I saw Jake Scott was at Sandy Amphitheater last May when he opened for Ben Rector, so I found it extra special that he was back at the same venue, only this time, he was headlining it!
When I walked in, I noticed many people sporting Jake's merch or the color lavender in honor of the new album. They even had a station where people could tie-dye their own lavender shirt which was super fun and unique! 
Sammy Rash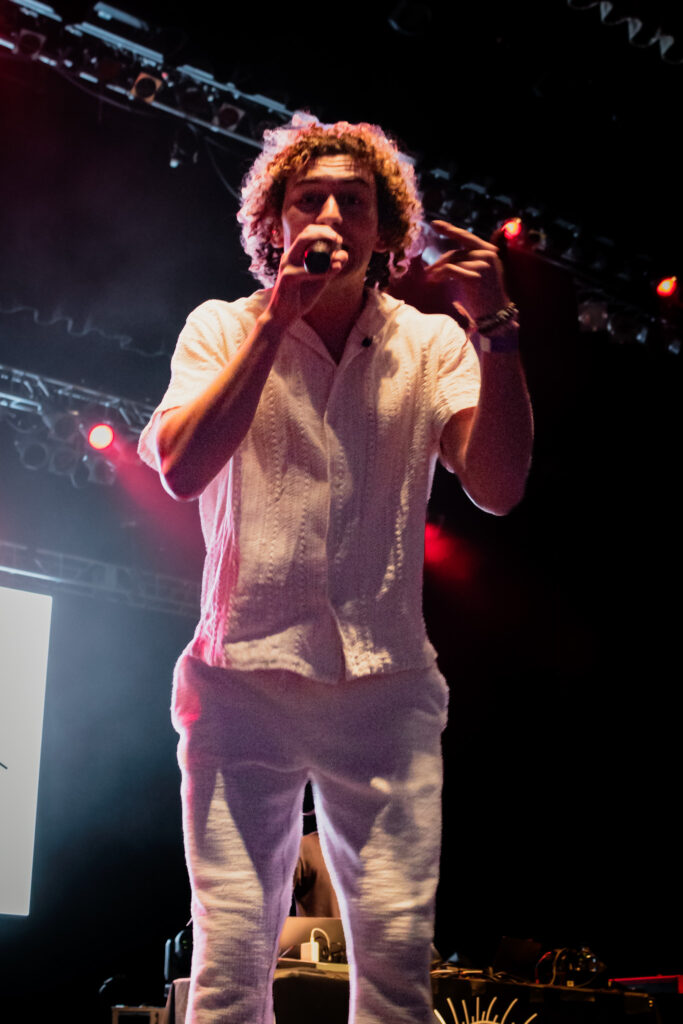 Before Jake's time on stage, the crowd was favored with a performance from Sammy Rash! He had just played a sold-out show at Kilby Court at the end of September, noting that it was his first sold-out show ever, then Jake called him last week to open up the album release show! He seemed so happy to be back and many, many fans were happy to have him back, too! Sammy was not only talented, but charismatic, too! I don't know if I've ever heard a crowd go so wild right off of the bat at the start of a show like that – there's usually a warm up period, but not this time!
While each unique in their own way, Sammy's songs all had a fun vibe that reminded me of warmer days and summertime (which I found especially welcome as we transition into Utah's forever long cold seasons)!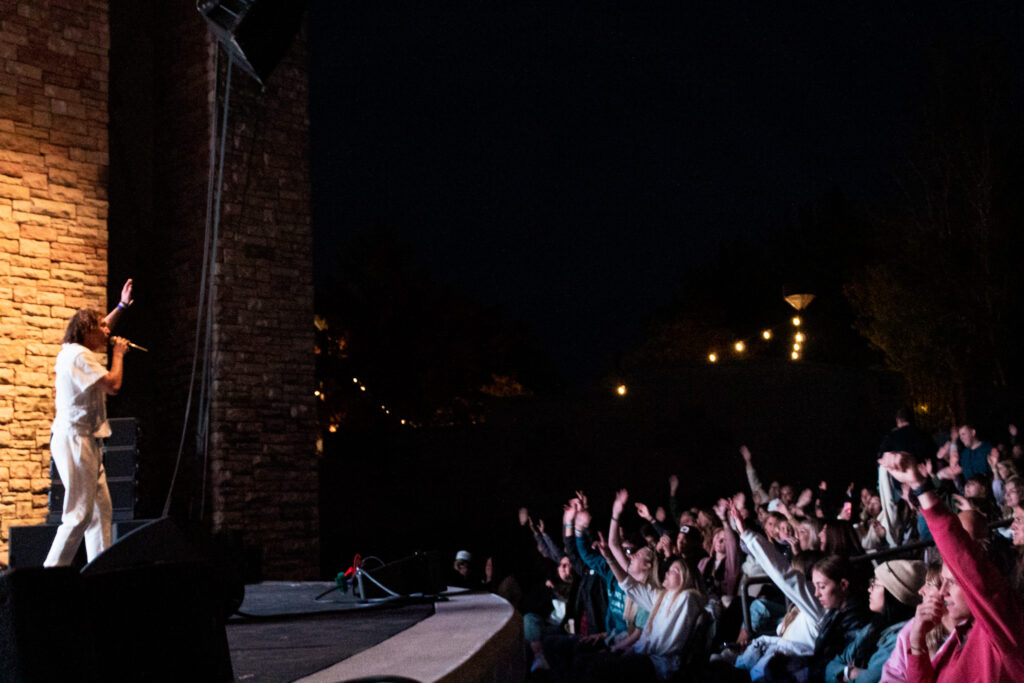 After a few songs, Sammy had the crowd take a deep breath and joked he knows that they didn't think they were signing up for a yoga session when they planned on going to the concert, but it lead perfectly into the song, "Be Here Now." The song was a great reminder to be in the moment, and whether the moment is good or bad, it only lasts so long!
Sammy asked the crowd if anyone had been to Taylor Swift's Eras Tour or the movie of the concert that was released the night before, which received a lot of enthusiastic screams from the audience! That question lead into Sammy covering Taylor's, "Wildest Dream," as you can probably guess based off of their reaction to the Eras Tour question, it was certainly a hit with the fans!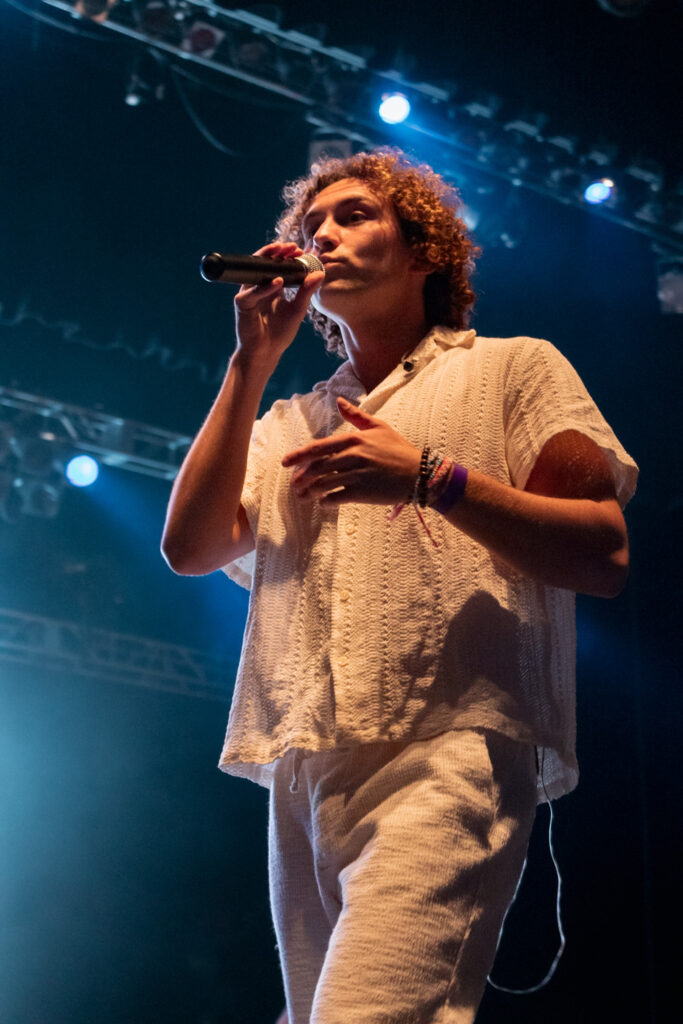 He mentioned that a week ago, he was on the couch reminiscing over his tour that had just ended, and then he was back unexpectedly performing again!
He introduced his song, "summer&cigarettes," which has over 33 million streams on Spotify, as, "the song that changed his life," after it went viral on TikTok. It was definitely well known amongst the fans as they sang and danced along!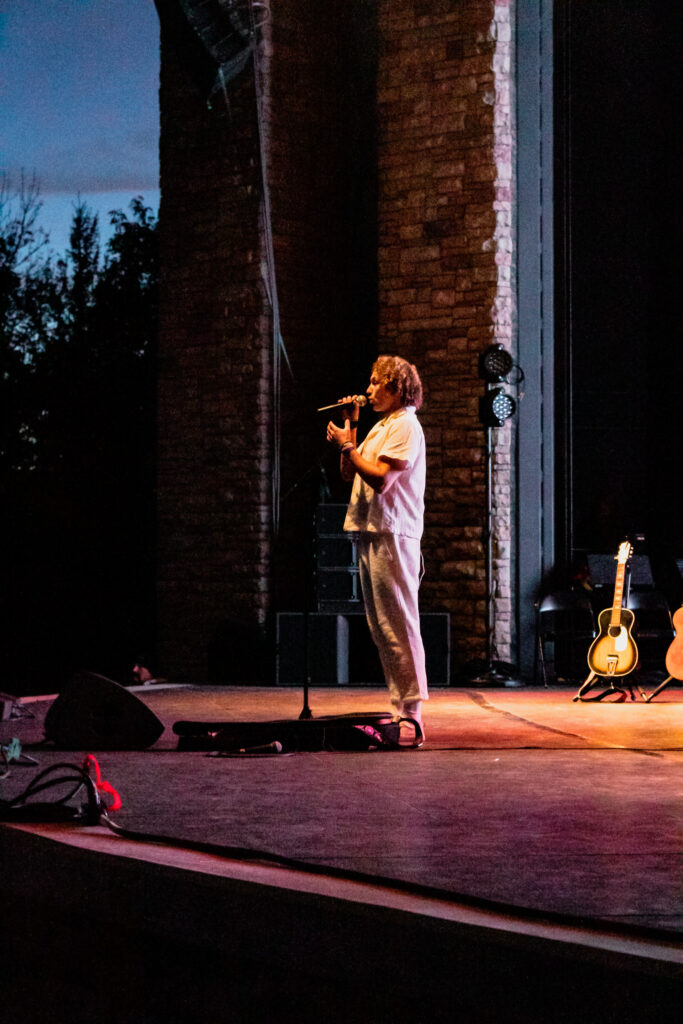 Sammy's set wrapped up with, "Smile More." It was another fun, upbeat song with a positive message that reminds people to, as the title suggests, "smile more," and care less about the little things.
To say that the crowd loved Sammy would be an absolute understatement. After his opening set, he not only received a standing ovation, but over a hundred fans lined up to meet him, and even more lined up after the entire show was over! He took time to have a genuine conversation with each one, and even after the venue closed for the night, the line moved out on the sidewalk so that everyone could get the chance to say hello! Needless to say, he was a hit!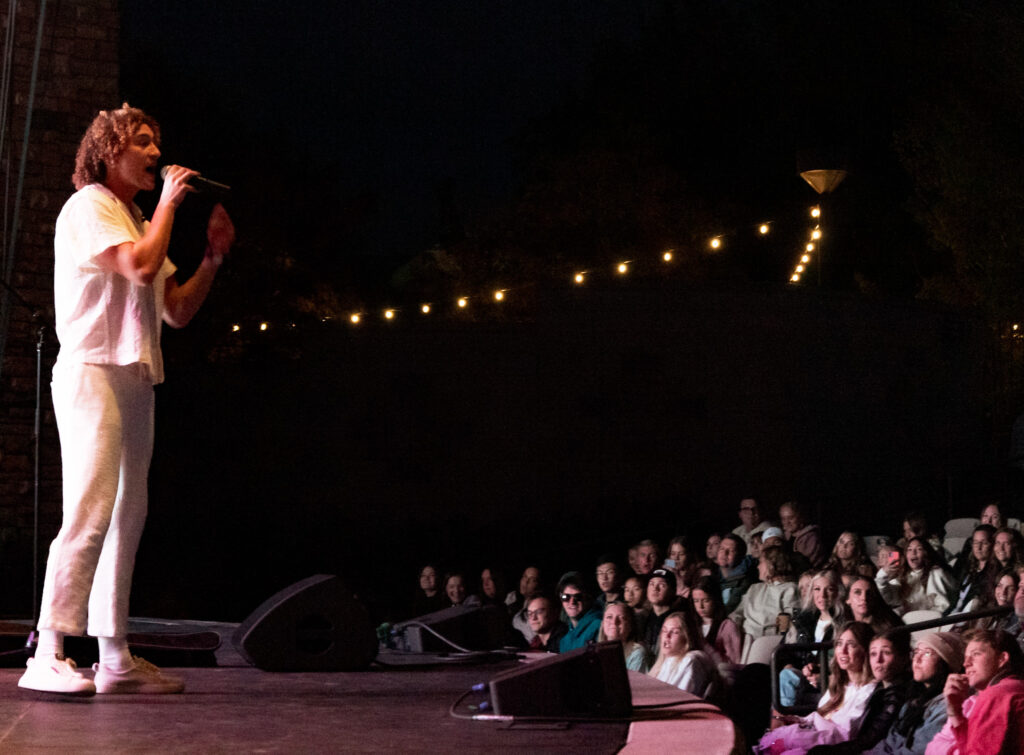 Jake Scott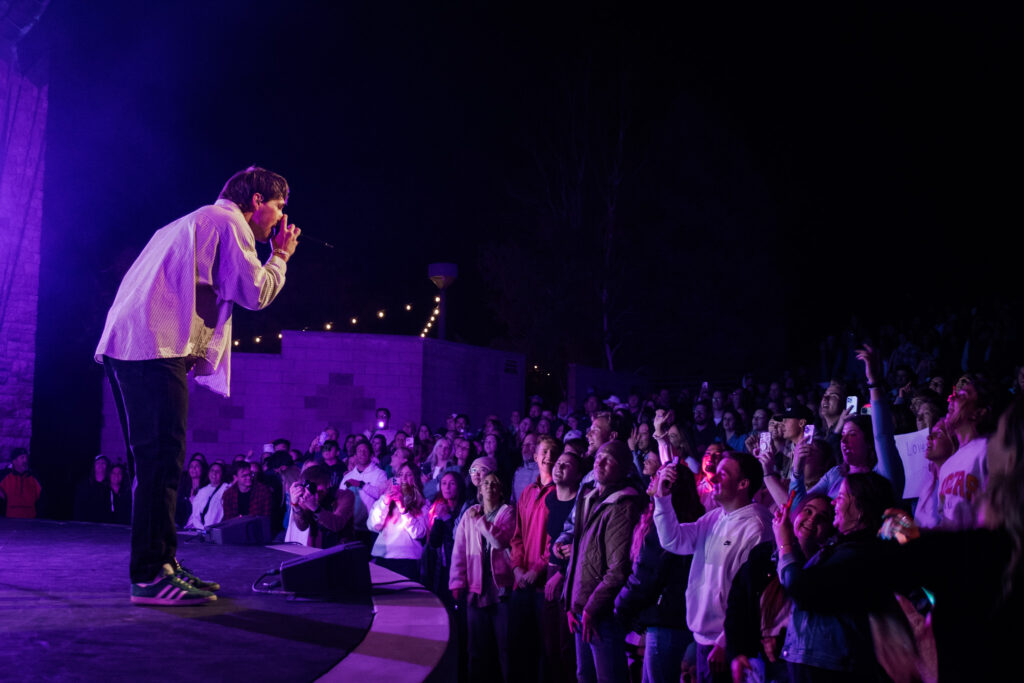 Soon, Jake Scott was on the stage for his big night and introduced himself by saying, "My name is Jake Scott, and I love Salt Lake City!" He explained that he would be playing his new album, "Lavender," that releases on October 20th, in it's entirety, and that he'd be constantly talking about his wife, Rachel, because the album is essentially a love letter to her. He said that he would have the lyrics to the new songs displayed on stage so that the fans could sing a long to the songs they'd never heard before. I thought that that was a brilliant idea, and the crowd loved it too! One person yelled, "We get to do karaoke!"
Jake Scott's energy on stage is unlike most performers I've seen! He was constantly back and forth across the stage, jumping up and down, and skipping and jumping across the stage, all while providing absolutely stunning, strong vocals! His voice is so dynamic and easy to listen to! The lighting that went along with almost every song was entrancing and added to all of the energy on stage!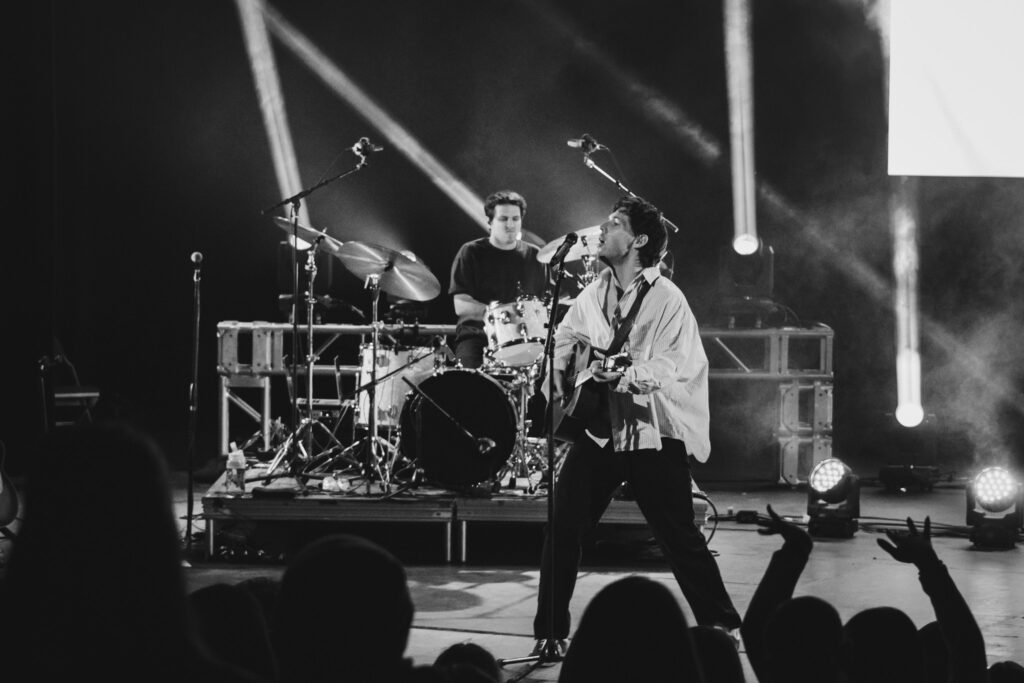 The 4th song, "Late Night Alibi," which was written with the Band Camino, was about a time when his now wife turned him down, but they'd still flirt all the time, which made him mad. As the song played, gorgeous streams of gold light beams flashed throughout the crowd, and gold sunshine shaped lights reflected on the stage.
The next song, "Forever Twenty-Two," was described as the sister song to, "Married Young." It was a super sweet song about how, even though they were young, the more Jake Scott knew about his wife back then, the more he knew he wanted to marry and spend forever with her, regardless of their age. He expressed how grateful he is that they've been able to grow up together.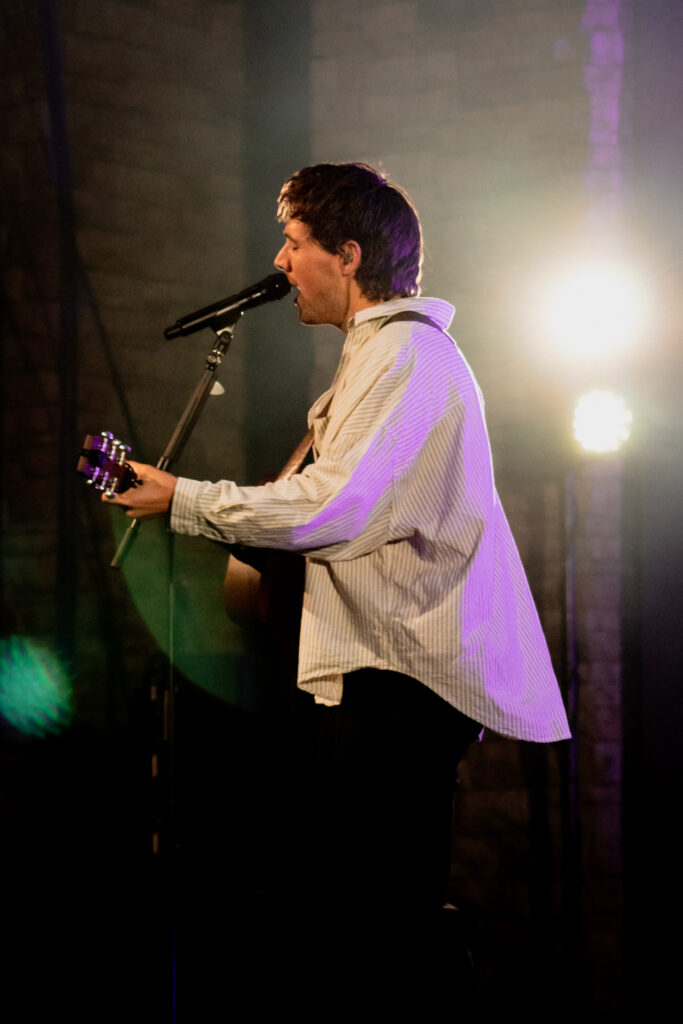 Jake noted that the upcoming song was very special to him. He explained that he grew up and still is very agreeable, but as he has gotten older he's had to sort through what he believes and what he stands for. Because he fought to know what he believes, he said it makes those beliefs even more important to him. He began the song, "For You I Will," then restarted so he could get the lyrics just right. It was the first time the song has ever been performed after all! As he sang the vulnerable song, the crowd lit up their cell phone flashlights which gave off a nice glow
"Don't Make It Easy," was penned by Jake and Rachel. Jake Scott said he felt that sometimes pity feels worse than being treated badly, and both he and is wife had similar break ups where they experienced that. The mellow, easy listen goes through a reflection of an end of a relation ship where the chorus noted, "I don't want your pity, so if you're gonna leave me, at least don't make it easy." He added a little passionate rasp to one of the times that he sang that part, and someone screamed, "Oh my gosh!" in reaction to that!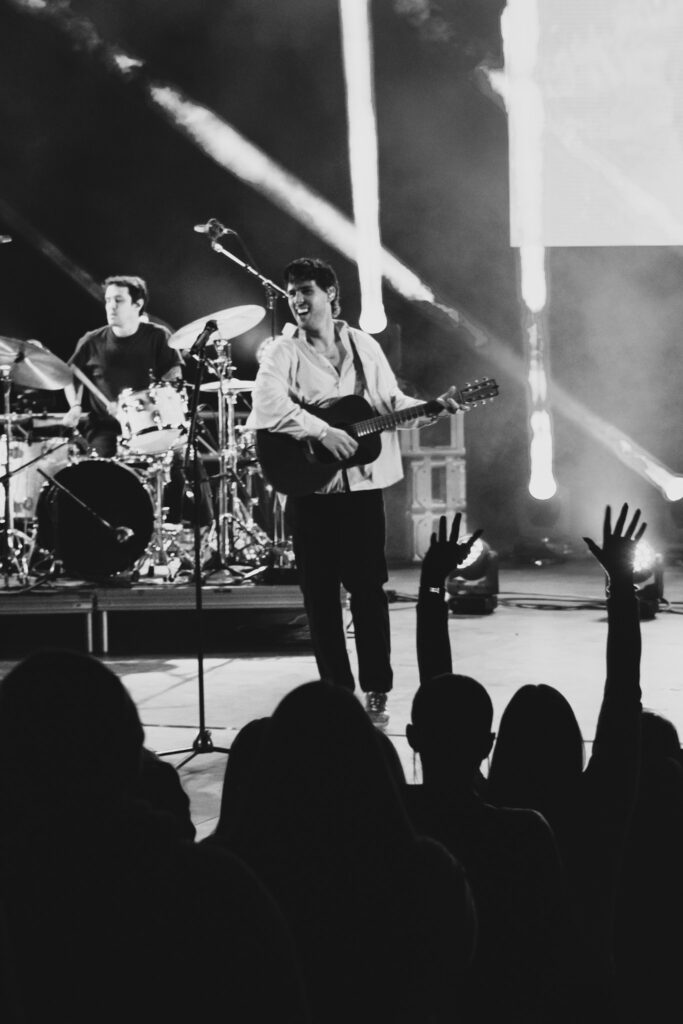 "This song is fun," Jake said about, "Middle." He said, "I've been going through some stuff, and I'm learning a lot, but I'm not quite there yet." This song really is a fun one! There were really satisfying harmonies, it had a great beat, and it though the crowd hadn't heard this one yet, with help from the lyrics on the screen, it was an easy song to sing along to! The previously blue illuminated stage had lights
"Out of the Blue," was about a turning point in he and Rachel's relationship. She had told him, "I'm never going to have feelings for anyone like I did for my ex-boyfriend," which caused a fight between the two of them, but the next day, something changed and she was into him! The song portrayed the story in a happy, hopeful way, and like the song prior, it was a great sing a long.
Jake Scott then introduced the Salt Lake City String Trio to join him for the next few songs. He said, "Y'all have cold weather here in Utah," as he retuned his guitar due to the weather's effects.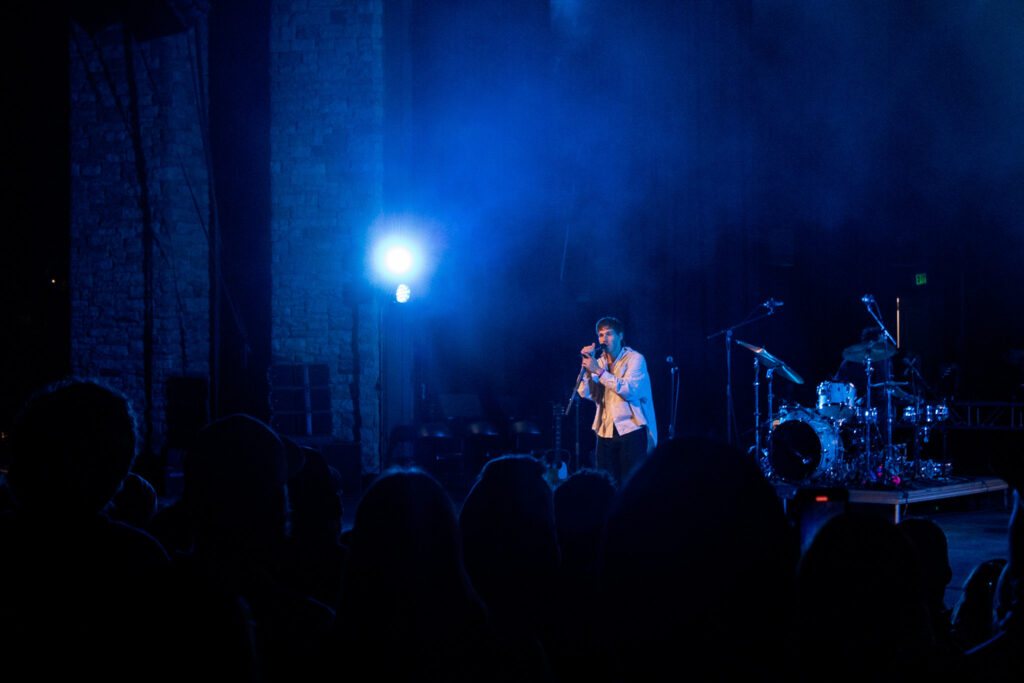 The next song he introduced as, "Long Goodbye," and said that that was all of the information that he was going to give the crowd. It was a sad, but beautiful sounding song. From what I gathered, the song went through a slow, numb demise of a previously budding relationship. The lyrics were heartbreaking, and comments throughout the audience confirmed that they thought so too as I heard some say, "Ouch," or, "That's really sad." But again, as sad as the song's context was, musically it was stunning.
The next song started with the addition of the guest string group, and it was beautiful. From one heart wrenching tear jerker, "Long Goodbye," to the sweet, sentimental tear jerker, "Tuesdays." This song comes from the perspective of a father-in-law giving reminders that a lot, if not most, of the way love can be found in married life are in the seemingly mundane, normal days. It was a sweet scene as couples in the audience held each other close, and everyone gave a beautiful a cappella rendition of one of the choruses!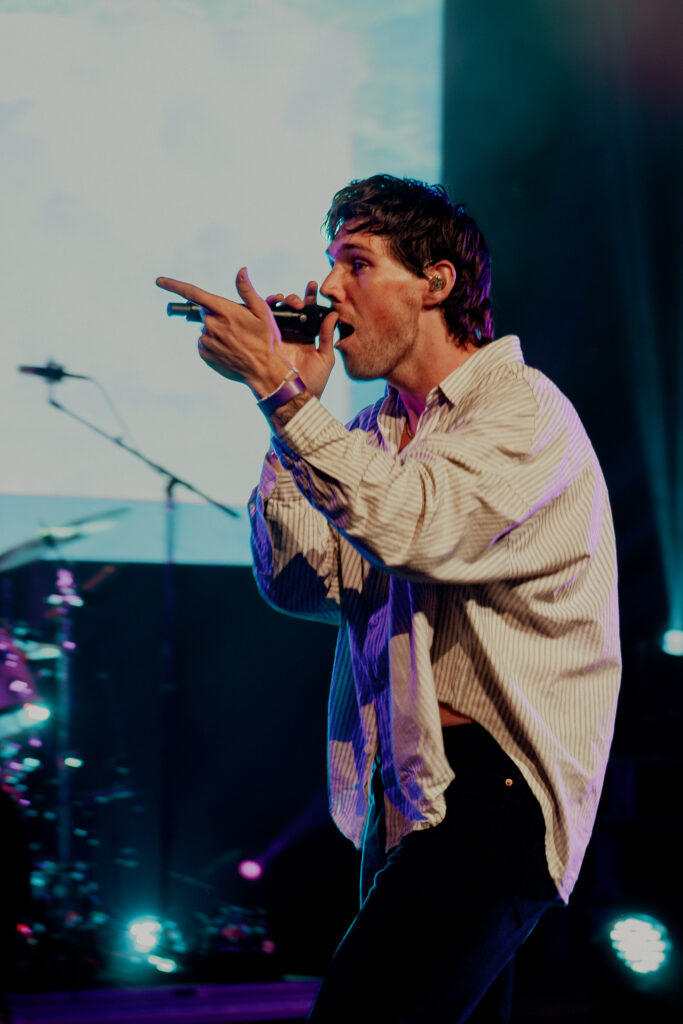 It picked up with the next one, "Like This." Fans did well with supplementing, "Oohs," that were scattered throughout the song. It got everyone dancing, and they did well when Jake had them sing part of the song themselves!
The next song, "It's Gonna Be You," is the last song that he wrote for his new album. It's a statement to his wife that if he does one thing right, it will be choosing her. It was totally sickeningly sweet in the best way! It was a testament to so many little things that he loves about his wife, and the chorus echoed his explanation of the song.
"Come Close," was about being vulnerable to facilitate a space to have a great relationship. The lyrics portrayed a great reminder in such a seamless way!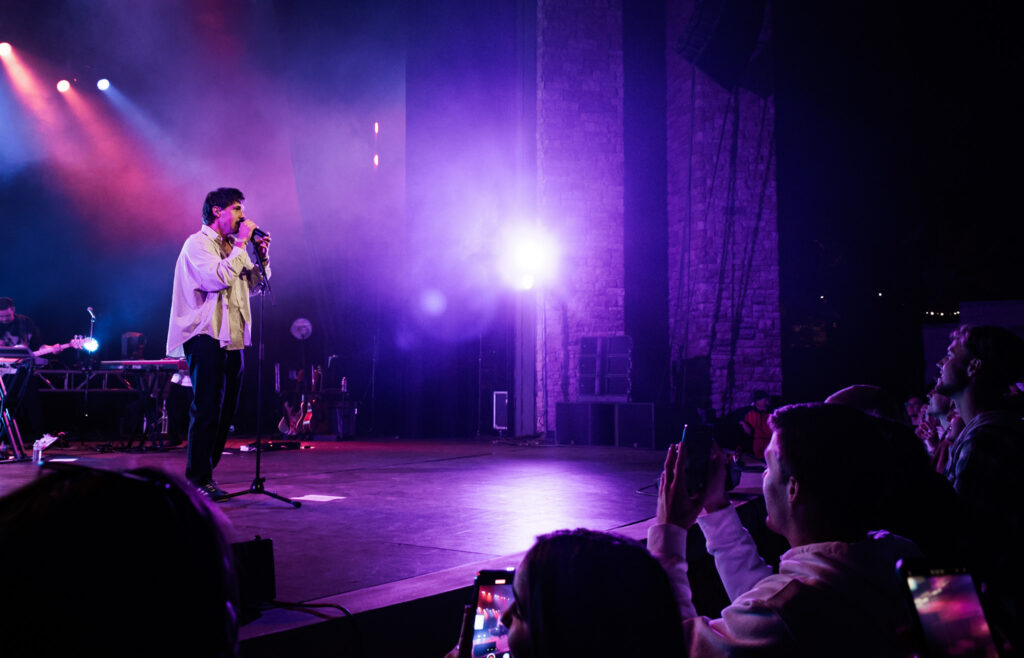 Then, Jake disappeared and showed up out to the middle of the crowd and said, "How're we doing up here?" The fans further back in the audience were so excited that he got a little closer to them!
Jake said, "This is the first song I ever wrote for my daughter," and explained that he started playing the chords to the song in a hotel room trying to calm his daughter, Ruby Hallelujah, down, and his wife, exhausted, from across the room said, "You need to write that song." As you could expect, it was a darling song, and the crowd quietly soaked all of it in while again swaying their phone flashlights in the air.
"One On The Way," meant more to Jake than any other song he'd ever written. It played through meeting his wife, getting engaged, and then having his children. The lyrics were so endearing and so clever!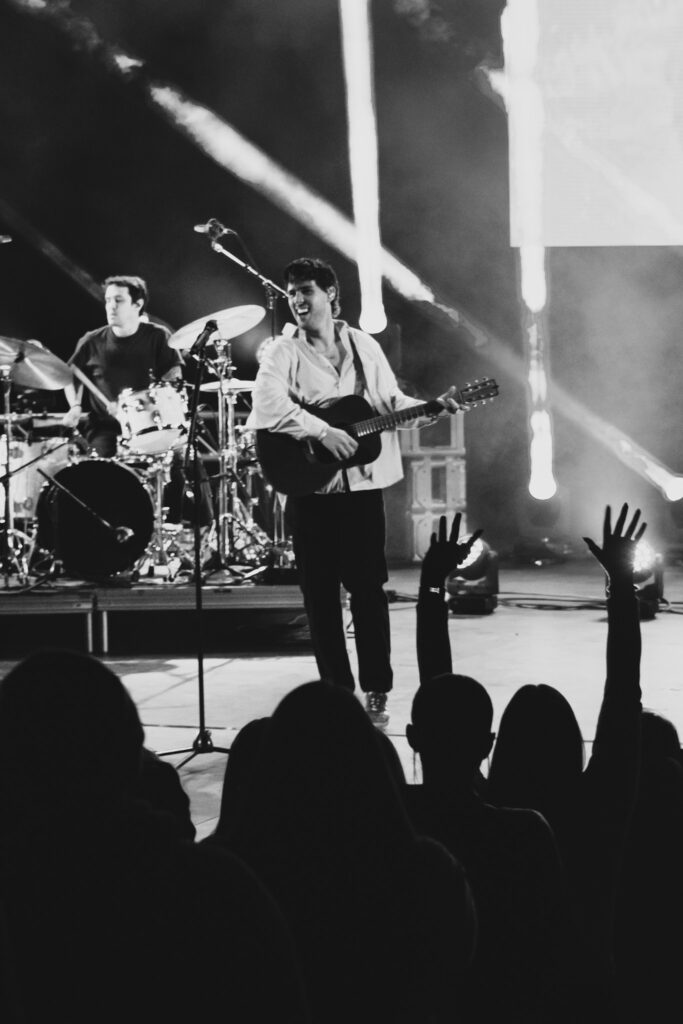 "Twice," was another sweet, fun song about his wife and the rarity of finding someone like her, saying, "I could look for my whole life, but I won't ever find you twice."
Jake announced that there were only a few songs left for the night and the next one was, "Sink In." He said that it was one of his favorite songs, and Rachel's favorite. It's about one of their first dates that included driving up the Pacific Coast Highway in California,and it's meant to make people feel like they're driving on the PCH. It totally did! The song was upbeat, felt summery, and had a few guitar riffs that, if you've ever driven PCH, Jake definitely achieved that goal – it definitely encapsulated that feeling! It was a perfect warm feeling that was just what was needed as the cold night started to draw to a close!
As the last song started, the crowd started screaming and jumping to the beat of the incredibly popular hit, "Good Day!" I had made my way down towards the lower part of the venue for this last one, and I did not expect Jake to once again disappear from the stage and end up walking right past me and throughout a good portion of the venue to wrap up the night – or so we all thought!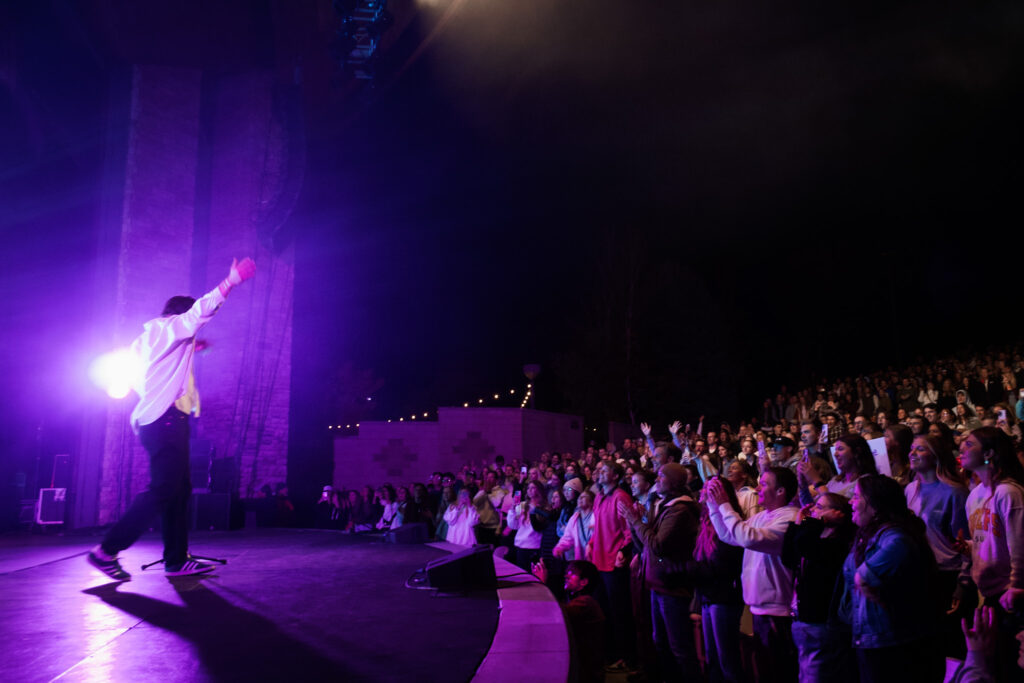 The crowd cheered and cheered for his return, and when he stepped back out on the stage, for one, Rachel came out on stage to give Jake a hug, which sent the crowd into a cheering frenzy for the two of them! Then, saying, "this was not the plan," Jake began to perform a cover of Taylor Swift's song, "All Too Well." The fans couldn't have been happier about that, and it was a perfect way to end the show!
It was an honor to get to witness, "Lavender," being fully played for the first time! There's no doubt that Jake's choice to do his album release show in Utah made all the local fans feel very special! Jake put on an incredible show filled with good music, and a great performance full of energy, talented vocals, and sweet songs! Utah music fans will be eagerly awaiting another visit from Jake Scott, and Sammy Rash, too!